Long or Short Term Pallet Rental Service
Hire Pallets for Events & Exhibitions – We Will Collect Them When You're Done Too
Pallet Hire – Rent Used Wooden Pallets Fast
We offer convenient short term pallet hire for all sorts of clients from our Coventry Distribution Centre. So whether you are looking to rent pallets to transport goods on, or for short term use at an exhibition or event you have planned — we can help. Standard pallets measuring 1200mm x 1000mm or Euro pallets measuring 1200mm x 800mm are usually available for same day delivery. However, if bespoke or custom made pallets are required we can produce the exact sizes required quickly if necessary to help clients achieve challenging deadlines.
In fact, with thousands of pallets available for almost any type of indoor or outdoor show — we can support our clients with fast efficient pallet delivery direct to events at exhibition centres, show grounds or even residential addresses anywhere in the country.
Our pallet rental service is used by manufacturers, exhibition & event organisers or even members of the public for use as tables etc at large garden parties or other private events.
Nationwide Pallet Rental Services
Convenient & fast pallet hire can be essential in helping you stage the perfect event. Pallets4Sale's central location in Coventry is extremely convenient for supplying pallets at very short notice to exhibitions or events being staged at the Birmingham NEC, the Ricoh Arena (now the CBS or Coventry Building Society Arena) or other venues in Birmingham, Solihull, Leicester, Derby, Nottingham or Northampton.
However, with a little notice our pallet hire service is available nationally & we regularly supply rental pallets for events in London, Manchester, Liverpool, Leeds, Bristol & even Newcastle upon Tyne.
London Pallet Rental
If you need to rent or hire pallets for an upcoming event in London, you will be pleased to know that we have regularly provided a pallet rental service for events at all the main exhibition & conference centres in the capital, including: ExCel London, Olympia, QEII Centre, The Business Design Centre & many others. Our delivery drivers are very experienced delivering to busy exhibition venues & will ensure that delivery instructions are strictly followed — so that trouble free delivery is completed efficiently.
We can provide pallet delivery in urban artics, rigid vehicles, vans or whatever vehicle is required to access any particular delivery point.
Need to rent pallets? Contact us today for a no obligation quote on used standard pallets, Euro pallets or custom made pallets for your events & exhibitions. We can also produce new ISPM 15 crates & cases with palletised bottoms for customers planning international exhibitions. For more information visit crates & cases
*Standard U.K. pallets are 1200mm x 1000mm (120cm x 100cm)
*Euro pallets are 1200mm x 800mm (120cm x 80cm)
*Custom made pallets may need to be purchased outright
* Heat treated & EPAL stamped ISPM 15 Euro pallets are available along with heat treated ISPM15 standard U.K. pallets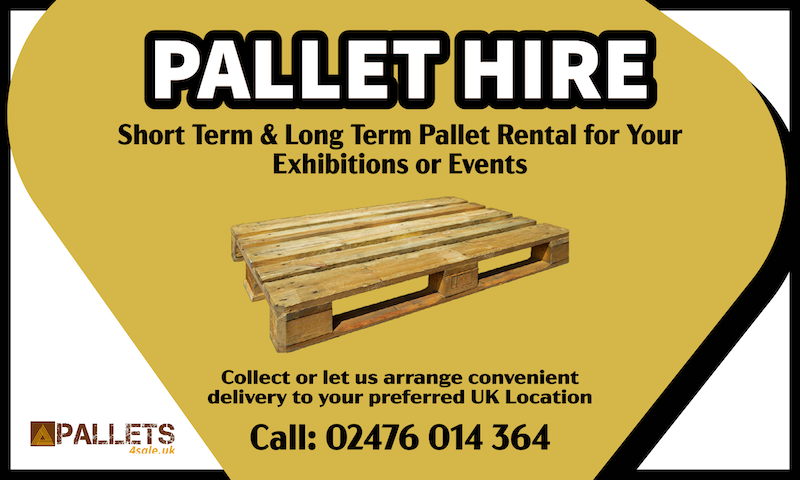 Pallet Hire – Get in Touch to Discuss Your Requirements
Our pallet hire team are available Mon- Fri from 8:30am – 5:30pm (excluding bank holidays).