We Buy Your Used Wooden Pallets
Pallets Wanted!
Looking To Have Your Used Wooden Pallets Removed?
Used wooden pallets wanted? If you have wooden pallets cluttering up your yard or warehouse — we may be able to help with fast same day pallet removal. We can often collect used wooden pallets in Coventry & Birmingham on the same day if they are causing a problem.
We may buy your used wooden pallets or plastic pallets in Birmingham or Coventry. Pallets4Sale can often remove pallets free of charge and might even be able to pay for great condition Class A wooden pallets. The pallets wanted most are standard pallets, EPAL stamped Euro pallets & half Euro pallets. Chemical CP pallets can also be removed depending on condition & location. Removal of other types of pallets may also be possible. We can collect pallets using our artic or in a partners flat beds 3.5 tonne light haulage vehicles when quantity or access restrictions require it.
Need a fast Coventry & Birmingham pallet collection service? We can collect used wooden pallets from most areas of the United Kingdom but our central location in Exhall, Warwickshire makes it easy to collect used pallets from Coventry, Birmingham, Nuneaton, Rugby, Leamington & Warwick very quickly — with same day pallet collection often available.
Unwanted Wooden Pallets Can Quickly Be Removed For Customers In Birmingham & Other Cities Across The Midlands.
Free of charge used pallet collections in the Midlands. We regularly collect used wooden pallets from: Birmingham, Solihull, Leicester, Nottingham & Derby but free same day collection of pallets may not always be available for these areas. Sometimes economical free collection of your unwanted pallets isn't possible and a small charge may need to be made.
Second hand or used pallet removal from other areas of the country will depend on vehicle availability and the quantity of pallets to be removed. Ideally when contacting us with a pallet removal request, include a picture of the pallets that need collecting.
Give us a call today to see if we can clear your unwanted pallets.
Having Your Unwanted Wooden Pallets Removed
Wooden pallets wanted in Coventry, Nuneaton, Bedworth, Exhall, Rugby, Warwick, Leamington, Birmingham & Leicester. As mentioned above we can usually collect from these areas quickly at a time convenient to you in vans where access is restricted or in articulated lorries for bulk quantities.
If you've been wondering who buys pallets? or who collects pallets? We offer free removal of your old pallets and we can do both very quickly for businesses in Coventry, Birmingham, Leicester, Rugby, Nuneaton, Leamington Spa & Warwick. Collection of pallets from other parts of the UK can also be arranged with more notice.
Ideally when contacting us about clearing your unwanted pallets – we would appreciate a photograph of the pallets you want removing and details of any access issues. We can then decide on the type of vehicle required and advise if & when we can provide a pallet collection service in your particular area. We can also remove unwanted shipping crates and cases. New custom made crates & cases can be obtained by following this link to New Crates.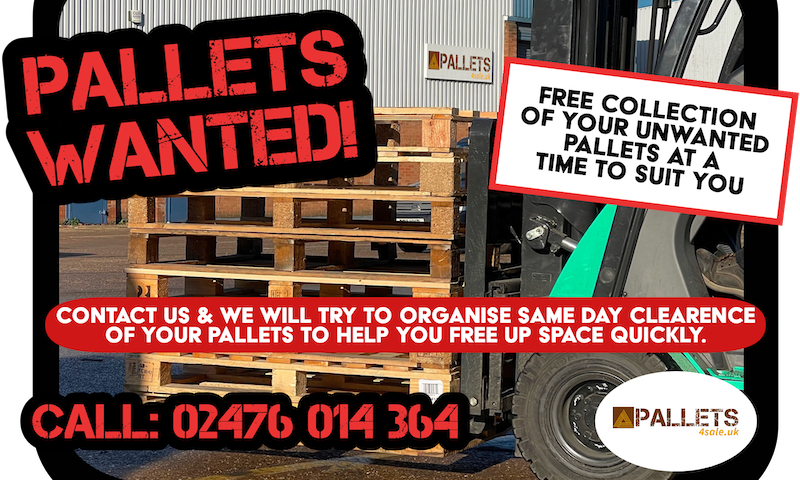 Get in Touch to Discuss the Removal of Your Unwanted Pallets